Company Profile
Dharmanandan Techno Projects Pvt. Ltd. has made a successful name for itself by manufacturing products such as Water Treatment Plants for industrial and household applications. We are a Gujarat (India) located supplier, manufacturer, distributor and service provider, who entered the industry in the year 2011. We are offering Water Chillers, Shrink Wrapping Machine, Bottle Filling Machine, Packaged Drinking Water Plant, Water Treatment Plant and many more. We also offer ISI Consultant Services, Project Consultants, Turnkey Mineral Water Project Services and others. Our offered products are developed by our domain experts, which gives high reliability for a long service life. Following moral business principles, we have acquired a strong domain position in the market.

Company Fact

| | |
| --- | --- |
| Nature of Business | Manufacturer, Exporter, Service Provider, Wholesaler/Distributor & Supplier |
| Year of Establishment | 2011 |
| Standard Certifications | ISO 9001: 2008 |
| Company CEO | Hiren Sangani |
| Legal Status of Firm | Private Limited Company |
| Promoter | Mr. Nikunj Bhai |
| Annual Turnover | Rs. 1 - 2 Crore ( or US$ 200 K - 400 K Approx.) |
| Location Type | Urban |
| No. of Production Units | 2 |
| Production Type | Automatic & Semi-Automatic |
| No. of Designers | 2 |
| No. of Engineers | 3 |
| No. of Employees | 25 |
| Company Registration No | U29259GJ2011PTC065110 |
| Central Sales Tax No | 24722805846C |
| Value Added Tax Registration No. | 24222805846V |
| Pan No. | AADCD8174E |
| Registration Authority | Gujarat |
| Quality Measures / Testing Facilities | Yes |
| Original Equipment Manufacturer | Yes |
| Banker | IDBI Bank |
| Warehousing Facility | Yes |
| Primary Competitive Advantage | |
| Payment Mode | |
| Shipment Mode | By Road |

Product Range


R O Plant

Industrial RO Plant
Commercial RO Plant
Reverse Osmosis Plant
Reverse Osmosis System
Reverse Osmosis Equipment
FRP RO Plant
SS RO Plant
ISI RO Plant

Water Treatment Plant

Water Filtration Plant
Water Purification Plant
RO Water Treatment Plant
RO Water Purification Plant
Reverse Osmosis Water Treatment Plant
Mineral Water Treatment Plant
Packaged Drinking Water Treatment Plant
Drinking Water Treatment Plant
Industrial Water Treatment Plant
Pure Water Treatment Plant
Raw Water Treatment Plant

Mineral Water Plant

ISI Mineral Water Plant
FRP Mineral Water Plant
SS Mineral Water Plant
Non ISI Mineral Water Plant
Mineral Water Treatment Plant
Natural Mineral Water Plant
Mineral Water Production Plant

Packaged Drinking Water Plant

Packaged Mineral Water Plant
Non ISI Packaged Drinking Water Plant
Packaged Water Plant
ISI Packaged Drinking Water Plant
FRP Packaged Drinking Water Plant
SS Packaged Drinking Water Plant
Packaged Drinking Mineral Water Plant
Commercial Packaged Drinking Water Plant

Mineral Water Packaging Machine

Auto Bottle Filling Machine
Auto Water Pouch Packing Machine
Automatic Jar Filling Machine
Semi Auto Jar Filling Machine
Semi Auto Shrink Wrapping Machine
Semi Auto Carton Taping Machine

Drinking Water Plant

Drinking Water System
Drinking Water Purification Plant

Water Chillers

Noise Less Water Chiller
Water Cooled Chiller
Electric Water Chiller

Batch Coding Machine
Laboratory Equipments

Drying Apparatus As Per Is 11623 for Milk Powder
Drying Apparatus
Vacuum Manifold Extraction

Bottle Filling Machine

Automatic Bottle Washing Filling
Mineral Water Bottling Plant
Bottling Plant Machine
Bottling Plant Installation
Semi Auto Bottle Filling Machine
Auto Bottle Filling Machine
Bottle Filling Machine For Packaged Drinking Water
Bottle Filling Machine For Mineral Water
Water Bottle Filling Machine
PET Bottle Mineral Water Filling Machine
Fully Auto Bottle Filling Machine
Drinking Water Bottle Filling Machine

Blow Molding Machine

Fully Auto Blow Molding Machine
Auto Pet Blow Molding Machine
Semi Blow Molding Machine
Semi Auto Blow Molding Machine
Pet Stretch Blow Molding Machine
Pet Jar Blow Molding Machine

Jar Washing Machine

Automatic Jar Washing Machine
Jar Washing Machine with Hot
Jar Washing Machine with Brush

Jar Filling Machine

Semi Automatic Jar Filling Machine
Jar Filling Machine 20 Ltr
5 Gallon Jar Bottle Filling Machine
Fully Automatic Jar Filling Machine
Pouch Packing Machine
Mineral Water Pouch Packing Machine
Water Pouch Packing Machine

Pouch Packing Machine

Automatic Water Pouch Packing Machine
Drinking Water Pouch Packing Machine
Pure Water Pouch Packing Machine
Pouch Filling & Packing Machine

BIS Approved Laboratory

ISI Lab Equipment
ISI Approved Laboratory For Packaged Drinking Water Plant
Mineral Water Laboratory Services
Laboratory Drinking Water Services
Laboratory Set Up
Quality Control Laboratory For Packaged Drinking Water Plant
Laboratory Training Mineral Water Plant
IS 14543 Laboratory Set up
Natural Mineral Water Laboratory

Shrink Wrapping Machine
Coin Vending Machine

Coin Operated Water Vending Machine
Water ATM
Coin Vending Machine

New Items
Cup Filling Machine
Service Range


Turnkey Packaged Drinking Water Project

Turnkey Mineral Water Project
Turnkey Mineral Water Project
2000lph Mineral Water Plant
Semi Auto PET Bottle Blowing Machine
Jar Filling Machine
Water Pouch Filling Machine
Water Cup Filling Machine
Automatic Shrink Wrapping Machine
Labeling Machine
Laboratory For Mineral Water Plant

Project Consultants

Turnkey Mineral Water Project

ISI Consultant

Mineral Water Plant Consulting Services
ISI Consultant for Mineral Water Plant Services
ISI Consultant For Packaged Drinking Water Plant Services
ISI Certification for Mineral Water Products Services
BIS Certification Consultant ( For Packaged Drinking Water)
ISI Consultancy for Bottling Plant
ISI Consultant For Mineral Water Plant
Consultancy Services for ISI in Packaged Drinking Water
Services We Offer
Apart from above mentioned services, we also offer an assortment of services that are listed below.

Selection of economic production capacity plant
Selection of Raw Water Source
Raw water testing
Detailed construction layout
Estimation of Power requirement
Electrification layout
Guidance for all required documents (DIC, Pollution, FD/ISI).
Preparation for ISI Inspection
Supply, installation and commissioning of plant and machinery
Training to successfully operator and maintain the plant
Complete laboratory setup as per BIS requirement
Training for microbiologist and laboratory chemist
Preparation of sample test report format
Complete Preparation of BIS Standards
Improvement of product quality
Marketing Strategy and guidance
Testing of Water sample from standard laboratory
Maintenance of ISI Standard and Documentation
Guidance for ISI mark license renewal
Label designing /Layout /Brand name suggestion
Raw material/ Packing material guidance and quality requirement
Annual maintenance contract
Pet bottle projects

Why Us?

We have been offering precisely designed products and services to meet the variety of requirements of our valued clients. From production, warehousing to easy payments and quick deliveries, etc. have allowed us to become the most sought after brand in the industry. Following are some other factors that play a significant role in our industrial success.

Ethical business policies
Well-equipped manufacturing facility
Dedicated workforce
Clear quality management
Use of high-end technology
Superior quality products
Maximized customer benefits
Prompt delivery
Infrastructure Facilities
With a widespread company infrastructure, our professionals carry out in-house operations in a seamless manner. All our state-of-the-art units are managed by our well smart-minded professionals, who work in coordination to achieve our company goals. A well-armed production unit with automatic and semi-automatic machines, assists our professionals in engineering all products in conformation with industrial standards. We also upgrade all installed equipment for regular improvements under our brand name. Also, we store all manufactured goods in well-organized warehouse for safe storage till they are required to be delivered.
Moreover, working under the able guidance of our mentor, Mr Hiren Sangani, we have marked a tremendous growth in a small duration.

Our Team
We owe our huge industrial success to our sincere and dedicated employees including production managers, storekeepers, skilled labors, packaging professionals and other skilled labors. All these work as a team with full coordination with each other to efficiently fulfill the requirements of our respectable clients. Based on the rigorous efforts of our team members, we have acquired a strong foothold in the industry. Also, we regularly provide training sessions and seminars to keep them all updated with latest industrial trends.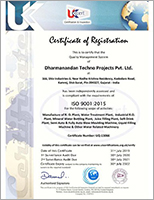 Research and Development