Mineral water bottle filling machine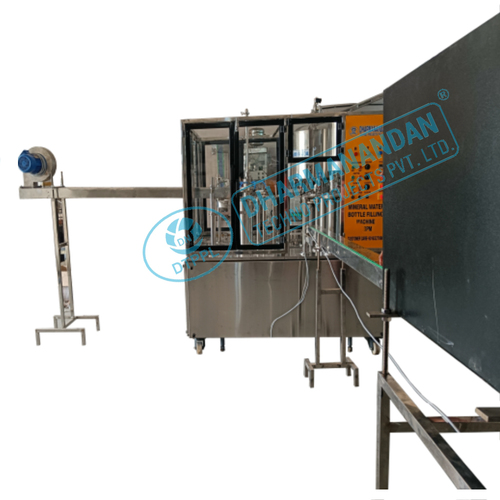 Mineral water bottle filling machine
Price And Quantity
Set/Sets, Set/Sets, Set/Sets
Product Description
The machine is having round Tank with 6 head filling. The filling valves are specially designed to fill water from 250 ml to 2000 ml. The machine is provided with 9 head rinsing nozzle with Nine set of catcher for holding bottle which also allows the bottle to get washed from inside. The machine is having 3 sets of special capper, which tightens the cap of any mentioned size. The machine is suitable for filling any type of liquid, which has free flow density. As this machine is complete mechanical operated no compressor is required. The machine is also provided with cap feeder, which has a capacity of approx 1800-2000 cap with U. V. Light system. The machine is provided with 6 feet Indeed Air Conveyor and 15 feet out feed motorized Conveyor for unloading the filled bottle with Inspection Board and Auto shrinking machine in line.
Offered Mineral Water Bottle Filling Machines come with filling valves that are specially intended to fill water. These are provided with head rinsing nozzles and come with special sets of special capper, which tauten the cap of all mentioned sizes. These are suitable for filling all kinds of liquid, which come with free flow density. These are completely mechanical operated products that come with no compressors. Mineral Water Bottle Filling Machines are also provided with cap feeders, Air Conveyors. These machines have pneumatic operation with no solenoids.
In Brief: A complete mechanical machine with no pneumatic operation and no solenoid
filling operation. Water level is maintained by vein tube system.
Imp: The machine can be designed to fill Oil and Juice etc
SPECIFICATION FOR AUTOMATIC BOTTLE RINSING, FILLING AND CAPPING MACHINE
DESCRIPTION

SPECIFICATION

Output/Hr.(Standard 1 Litre Size)

40BPM(2400bph)

Rinsing Head Indexing Type

9

Filling Head Indexing Type

6

Capping Head

3

Machine Type

Fully mechanical

Bottle Size Range

200ml to 2000ml

Min. Bottle Diameter (MM)

55

Max. Bottle Diameter (MM)

110

Min .Bottle Height(MM)

125

Max. Bottle Height(MM)

340

Machine & Shrink Tunnel Connected Electrical Load

9 HP(6.71)

Main Drive Motor

1.5HP(1.11kw) 890rpm-440vac

Cap feeder

Motor 0.25 HP (0.18 KW), 60RPM 230 VAC.

1800 Caps at a time

Shrink Tunnel

4.5 KW, 440 VAC

In Feed Air conveyor (8 feet)

Motor 1 HP, 2800

RPM 440 VAC

MOC: SS 304

Out Feed Slat conveyor (15 feet)

Motor 0.75 HP, 32

RPM 440 VAC

MOC: SS 304

belt: SS 304

Adjustable legs for different size of bottles up to 300 MM

Machine speed controls

AC Drive(Delta)

No Bootle No Filling, Rinsing & Capping

Provided In The Machine

Variable speed AC Motor drive output

440 VAC

Filling tank Water level control valves

Level Sensor 230 VDC

Filling System

SS Vein Tube

Capping

Regular Die Capping

Bottle holding

Neck only

Cap feeding

On the Bottle Mouth through Capping Chute

Machine size (Feet)

Machine only (L X W X H)

Machine with Conveyor & Accessories (L X W X H)

4.5 x 5.5 x 6.5

19.5 X 5.5 X 6.5

Weight

2000kg Approx.